Hi, I'm Frosty!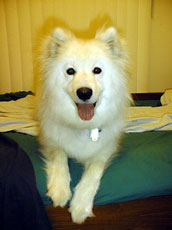 ---
Hi, I'm Frosty! I'm a Samoyed.
I was born in January 1998 and raised in Ohio, but my owners had to give me up early in 1999. Luckily, the great folks at MidAtlantic Samoyed Rescue were able to find me a new home. I now live in Northern Virginia with my new best friends, Walter, Angela and Michael. There's also Buddy the cat and Clawed the bird, but I wouldn't exactly consider them my "best" friends.
I have a great time at my new home playing with my extensive collection of dog toys and running all around the yard. Sometimes, I like to just chase my own tail around in circles. Woohoo!
Thanks for visiting me and please come back soon!
You can view my photo album here.
Links
MidAtlantic Samoyed Rescue (These are the folks who helped me!)
Samoyed Club of America
Organization of the Working Samoyed
Visit the Forlini.ORG Home Page.
© 1999/2000 W. Forlini
---
Comments or problems with this page should be directed to Frosty@forlini.org.